Have you ever asked yourself if there is such a thing as doing what you love and making money at the same time? The answer is yes. As an artist there are many avenues that you can explore to monetize your talent, allow yourself to be your own boss and spend your days doing what you love.
Picture this: Waking up every morning without dreading the day ahead because you are in charge of your day and what you do with it. You can make yourself a cup of coffee and work on a few commissions for paying customers while listening to the soothing sounds of nature or punk rock (whatever you prefer).
It sounds tempting, doesn't it? I don't think there's a person who would turn it down. But is it that easy?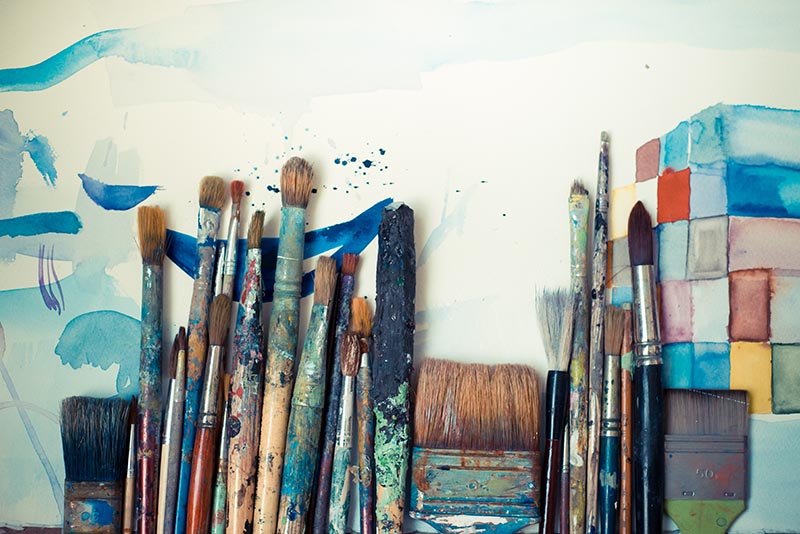 Given the current global pandemic, many art galleries and exhibits have not been operating at full capacity and some have been closed or have restricted access. As the protocols worldwide are slowly being relaxed, the art community has not fully returned to normalcy.
To make up for this, artists have been exploring many online and remote avenues to sell their art and there are methods that are expected to remain viable even when the pandemic is no more.
Let's take a look at the most popular and affordable ways for an artist to make money these days.
Best ways to make money as an artist in 2021
1. Sell your original paintings and copies (prints) online.
This is the most obvious and easily realized way. It doesn't require having your own store or a large audience. Thanks to the internet, you can sell your art online through different platforms. Here are some of the best sites to sell artwork online:
2. Sell paintings at art exhibitions.
This is the most prestigious way. To be honest, not every artist can boast about it. But if you're lucky enough to have an agent, you can probably make an entire year's budget by selling a few paintings. Again, back to the fact that you need a good agent who doesn't take 80% for himself.
If you have good connections, you can get by without an agent. This requires a lot of networking, and you may have to attend the exhibitions of other artists before you can get your foot in the door.
Art exhibitions are few and far between as the world battles with the Covid-19 pandemic but if you are in a region where restrictions have been lifted, you can try your best to get on board with a gallery to exhibit your art while the coast is clear.
3. Painting commissioned work.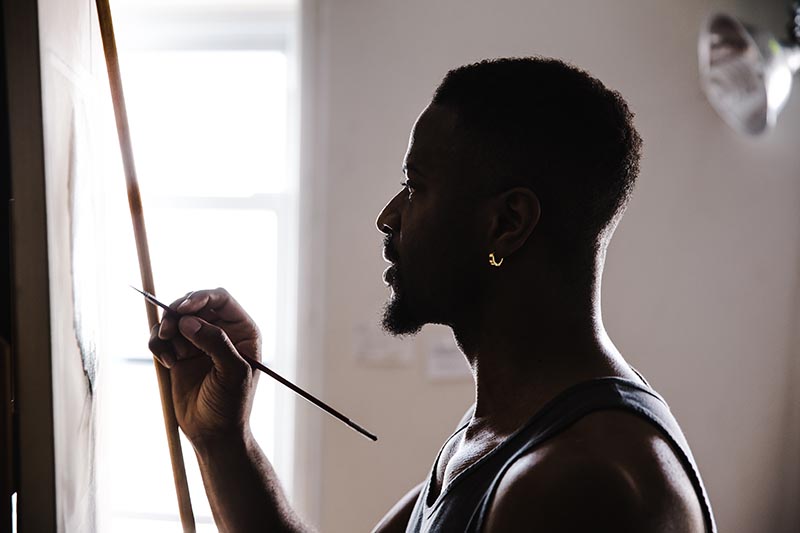 This method is for the stress-tolerant. It has been popular at all times. Everyone wants their portrait or to give someone a portrait, but customers vary in character and in their ability to pay. These are therefore more customized projects and pricing will vary according to the work requested.
But here's an idea.
You can also offer commissioned items which are simpler such as greeting cards or plaques and cards for special occasions and holidays. You can get commission work on legendary sites such as Deviant Art which is one of the largest online art communities.
4. Conducting offline workshops with artists.
This way is, in my opinion, the most enjoyable. Gather adult and children's groups and give regular lessons. From time to time, you can also travel and give workshops. A change of scenery, meeting new interesting people and the satisfaction of teaching and seeing grateful students motivates and diversifies this type of activity.
This method is difficult to implement in the beginning, because you need to find a room, buy materials, assemble groups and handle a lot of administrative work. But with the right approach, the investment pays off. This method, unfortunately, is always limited in the amount of earnings, as you aren't guaranteed to fill all your work shop slots and you may not be able to accommodate them on a daily basis.
5. Creating and launching online drawing courses.
It requires a lot of resources at the beginning of the launch. You need good filming equipment and light. In addition to this, you also need to know how to shoot and process video. You can learn all this by taking paid or free lessons online, but to create quality content, it is advisable to contact experts who can help you organize the shooting. All you have to do is take care of the content.
But the next question is, where to post your online course?
Today, there are many opportunities to post your courses on your website, which you can easily create and pay a monthly fee.
Some of the most popular platforms for this are Learnworlds and Teachable. Minimum packages on those sites start at roughly 29€ a month, so they are affordable. Minimal packages are a good starting point, but they are limited in functionality and might not satisfy everyone. So you should count on an average of three times that amount.
Creating an online course and releasing it is one thing, but selling it is a more complicated task. The same principle works here as with paintings. If you have a large audience and knowledge of marketing and sales, then, with some effort, you can cope with this task. If not, you can place your online courses on already promoted and popular platforms such as Udemy or Skillshare.
All platforms have different conditions, but, in general, they are similar. They usually take their share of your course sales. Launching a course on one of these platforms will make it available to users, but if there are many other courses on the platform, then the question arises as to how to make it stand out.
But here's the deal: usually, for an additional fee, platforms provide promotional services to make your courses more visible to potential customers.
6. Creator of video content on popular platforms.
To give you an example, there are platforms like Youtube or TikTok. On YouTube, you can get money for views, but you have to have more than 1,000 subscribers. You can also create a Patreon to get extra support from your subscribers.
Additionally, you can earn money in TikTok too through user support. Once you have 1,000 subscribers, you can go live. Users can support you with gifts in the form of stickers, which can then be exchanged for real money. It's not as easy as it sounds. It means being constantly active and producing quality trending content regularly.
These are great platforms to do reviews and affiliate marketing for art products and services to keep your content fresh.
7. Become an Influencer on social media.
This works if you have a large enough audience in social networks such as Instagram. It combines well with the previous method. Only you need to be careful: if you are an artist and you have followers who follow you because of your work, then if you start advertising protein shakes, you risk losing the trust of your audience. You can become a brand ambassador for art related products instead because it will be relevant to your page.
To grow your audience, you must engage them with exciting content on a daily basis. Make use of 'story' features on social media to give behind the scenes access to your followers. For instance, these posts can include some footage of you painting or giving quick art tips. They can also follow you on trips to art galleries or exhibition events that you are participating in or simply promoting.
As an influencer, the more opportunities you get to show off your personality or art work, the more your followers will be interested.
8. Make money as a freelance illustrator.
You can google the Internet and find a book publisher and send a letter with your portfolio. You can also register on a freelance website and publish your portfolio, and then maybe you will be noticed by customers and will be offered some interesting projects.
Sites like Upwork and Freelancer are popular freelancer platforms that have broad categories and service listings.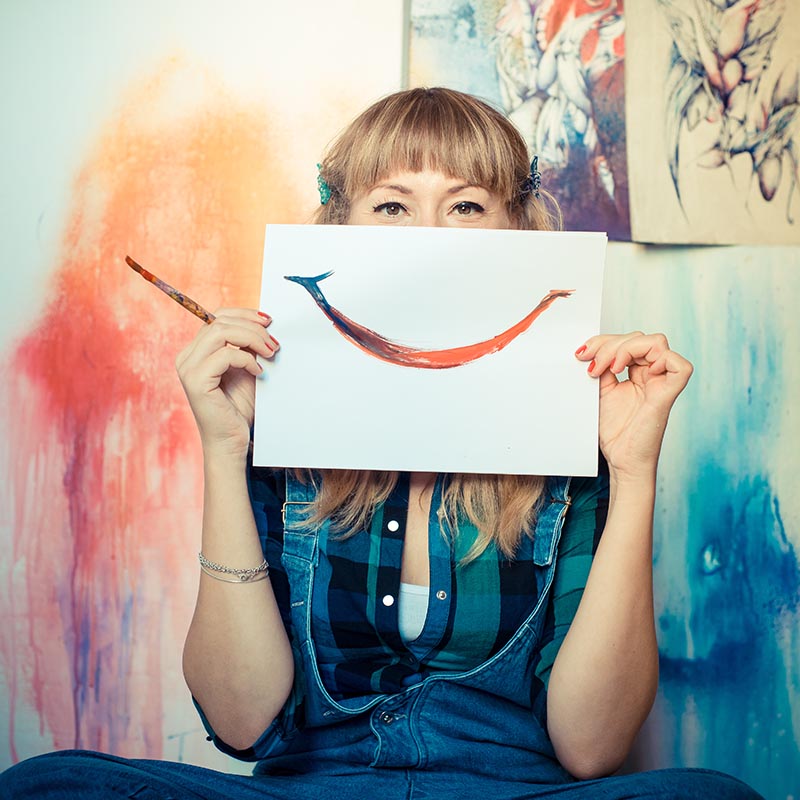 There are also lots of other freelancers offering the same services, so the competition is stiff. You need to be able to stand out from the crowd, gather good client reviews and keep your performance consistent.
But that's not all.
Your price point also needs to be competitive. One thing you can do before setting up your profile is to browse the art and graphics categories to get a better idea of what is being offered and the costs.
9. Release an educational book on drawing.
You can compile a simple guide on how to draw or drawing techniques. Then, you can make an electronic version that can be downloaded for a certain amount of money.
The best part?
Your book doesn't have to be about techniques and theory either. You can put together an art book with your best illustrations or paintings. Many self-published ebook authors turn to Amazon to get their books sold for Kindle.
You can also go the classic route: find a publisher and publish the book together. This option is not as easy to accomplish but developing an e book and getting enough sales and attention can also eventually lead to securing a publishing deal with a publishing house.
10. Create patterns for fabrics.
You can create beautiful, stylish patterns and upload them to Patternbank and maybe some big house will just buy your illustration. There are several options for selling patterns on Pattern Bank.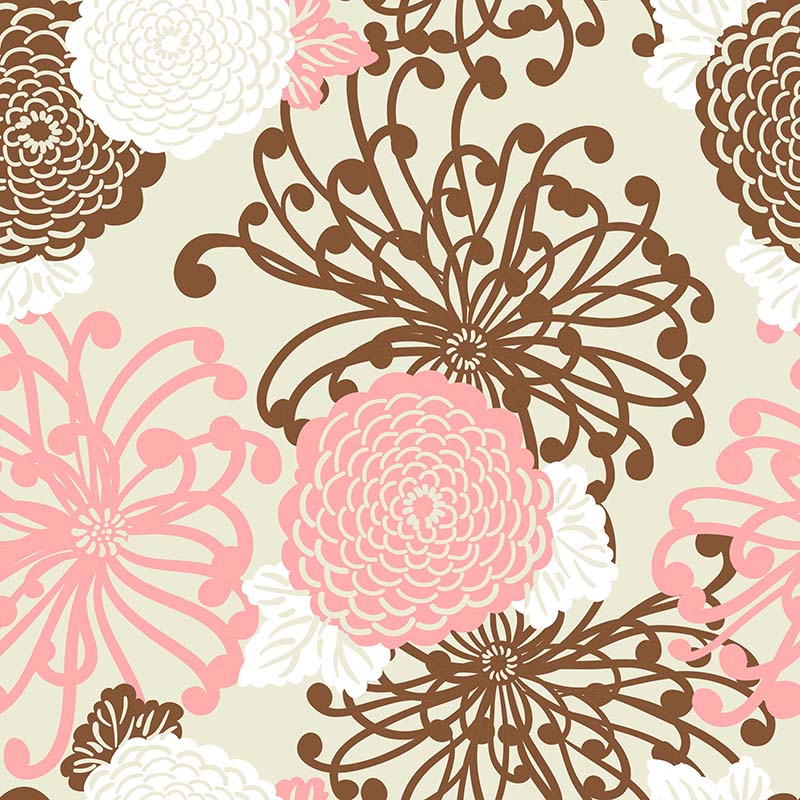 You can sell your designed prints for noncommercial use, commercial use or premium exclusive use where the buyer takes ownership of the design once purchased. In this case you are paid a one-time fee which is usually priced higher for the buyer to have exclusive rights to use the print. For the non-exclusive categories, you are entitled to a 50% commission on all sales made through Pattern Bank.
11. Sell images on stock sites.
One of the most popular sites for this Shutterstock. If you have good work and popular topics in good quality, you can get additional passive income. Such sites are used by a huge number of people.
This is a good way to literally make money while you sleep. It's a simple process to go through in order to sell on Shutterstock after you create a contributor account. Choose the high-quality prints you want to sell, upload them to the Shutterstock and voila! Your prints will then be added to the gallery and you get paid when customers purchase and download your work.
12. Sell your illustrations or souvenirs.
You can digitize your art pieces to create digital prints. These can then be sold through your social media pages. You will then have to invest in a high-quality printer, special types of paper, and picture frames. You will also have to figure out what sort of delivery method to employ to get your product to the customer. This may be daunting if you don't have the start up funds to purchase equipment and materials. If possible you can visit your local bookstores or home décor boutiques to propose a sales agreement where they will sell your art in their shop for a cut of the sales profit.
Another option is using sites like Society6 where you upload and sell your art prints to receive royalties. Other sites and digital printing services like Flyeralarm and Red Bubble are other avenues to explore selling digital prints.
These sites offer a wider range of print options and you can get your art or drawings printed on just about anything from pillows to coffee mugs and much more. Customers will choose designs and what they want it printed on and you get paid for the use of your prints!
13. Giving paid live streams.
Paid streams, webinars, live broadcasts allow you to earn good money if you have a large enough audience, even if you sell for a low price. You can use platforms like Demio or Vimeo.
You can live stream tutorials, workshops and webinars via this method and allow you to interact with viewers for immediate feedback or content requests to make your stream more interesting or informative.
But that's not all.
Your live streams can range from an art class to 'ask me anything', or coffee talk about tips and tricks. If you are an active social media influencer, this method is a great way to promote your various pages where people can get in touch with you for projects or purchase your artwork.
14. Conducting paid personal consultations online.
Paid in-person consultations and training using tools like Zoom are very popular today. You can do art consultation and use your expertise to help others source specific artwork or how to use art to enhance their home or office.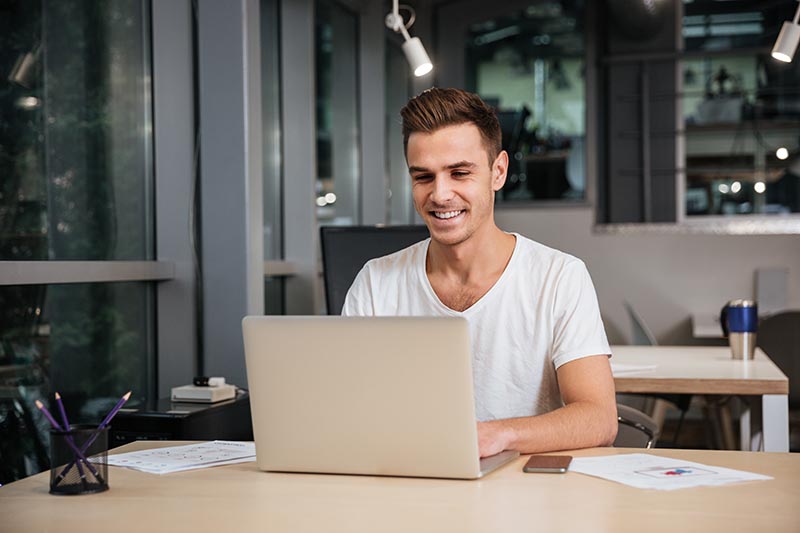 Many potential clients may not have access to an art expert who can guide them on how to purchase art, how to order custom art work or may even need help with their own art projects and would like expert opinion on techniques or sourcing materials for their projects.
15. Concept art for games.
Another in-demand and high-paying way to make money as an artist is to draw art for games. You can create your portfolio at ArtStation, where you can be noticed by such game industry moguls as Blizzard, Ubisoft, and others.
The gaming industry is huge and new developers are popping out of the woodwork and looking for artists to help visualize their ideas and fantasy worlds. Some of the most popular games today feature concept art found on Art Station and many artists have become very successful producing art for games and have even been offered full time jobs with big game developers.
16. Connect with other artists
You can collaborate with other up and coming artists and host an exhibition together or network with artists who are already known and active in the art scene. Social media platforms are a great way to facilitate such collabs and get some promotion to your own media accounts where the audience can see your art.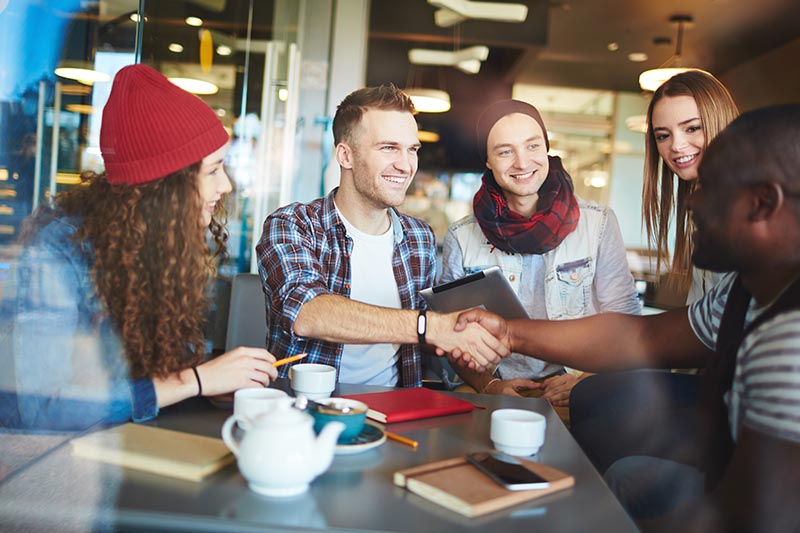 Artist collaboration can also be done via joint projects such as community art murals or charity events. Such projects can also be crowdfunded online and it could certainly get your name out there as an artist.
17. Try street vending
If you really want to make a hustle, try selling your art on the streets. To do this, you can set up a space where you can draw or paint on demand or sell completed artwork. Choose a busy area like a tourist hub or cultural district and much like a musician busking, you can do the same with art.
Many artists have gone viral from selling art on pavements or drawing portraits on the spot for passers-by. As long as you aren't obstructing pedestrians or violating any city laws, you are free to try your hand at street art vending as a fun and exciting way to share your art with the world.
18. Create your own blog
Blogging is a popular method to market yourself, your talent and products. You can use free versions of blogger sites such as Wix or Wordpress to get started. Blogging takes a lot of dedication and consistency to stay relevant and keep your audience interested.
You can post content about your art, insight into your life, how-to articles, listacles and tutorials, as well as showcase completed works for sale.
Blogs can be monetized via affiliate marketing and product promotions. Look for art related affiliate programs to become associated with to help with audience growth and passive income from ad clicks and promotional articles.
Such sites include Amazon, Creative Bug, Blick and Creative Market. All of these are worth checking out because they have decent affiliate programs to help you earn extra income through your blog.
19. Participate in art competitions
It's a bit like playing the lottery but if your work is impressive enough you stand a chance to win. Just google online art competitions and you'll see a plethora of options pop up.
Before signing up, ensure that you read the instructions, terms and conditions and look for any red flags that indicate anything suspicious. Some art contests require an entry fee but there are many which are free to enter.
Art competitions are also a nice notch on your belt if you win because you can use the recognition to promote your personal brand. Art contests also keep you on your toes, push you to improve your skills and motivate you to become a better artist in general.
20. Selling at art fairs or festivals
Book a spot at your local farmer's market or art fair to display your artwork for sale. There are a lot of people at these events and you are sure to get a few sales or get some exposure. Be sure to give out call cards and flyers so that potential customers can find your social media accounts or have your contact info in case they want to purchase from you at any time.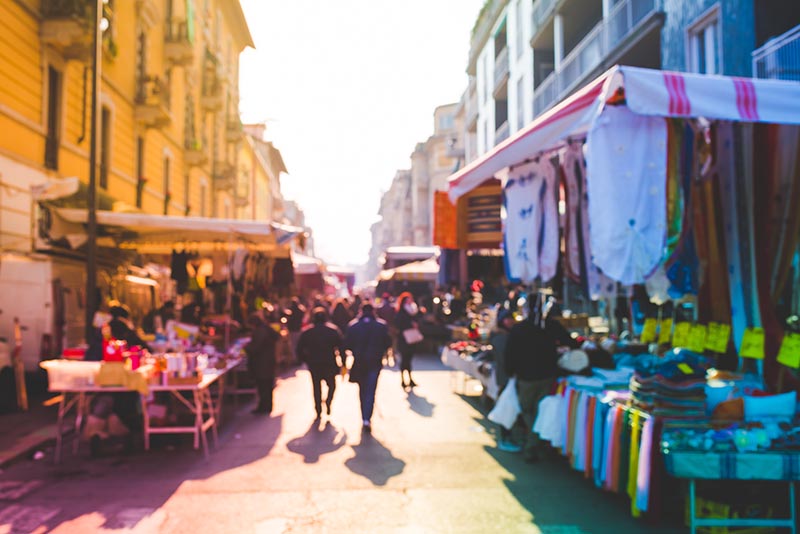 Fairs and festivals usually promote unique and handcrafted items. You can take your art in a new direction by appealing to the theme of the festivals and paint on upcycled materials or sell sustainable craft items.
Don't Give Up
It's no secret that selling art is not an easy feat but luckily you have quite a few options to try your hand at. Consistency is key in any form of business and you need to also continue perfecting your craft and improving. The better you are at what you do, the higher the quality of your product which then translates into more people being interested in your art! It's also a good practice to use more than one outlet to get your art out there and make use of various platforms to get noticed, get sales and monetize your talent!
As you can see, today the Internet opens up a huge number of opportunities for artists. The main thing is to understand where you want to go and choose a niche. Think about what topics inspire you and what style you like to work in. It's important to understand how much time you're willing to devote to it and, based on that, make a choice.
Whatever you choose, it's important to work on your own style and technique. There are thousands of artists, but only one like you!

Author: Rabi Alieva