Expressing yourself through art is a form of communication that not everyone can achieve. However, if you have set your mind and heart on becoming an artist, you will need a lot of practice to get the results out on the canvas that you imagine in your head. You should check out the best art classes around your place where you can learn new techniques. You should look for inspiration in everything, including everyday life. But to achieve all this, you will need art supplies.
Before you go out and purchase everything that comes in front of you, here are some things to consider when buying art supplies-
Determine the Art Technique You Want to Pursue: Arts has developed a lot over the years. There are traditional techniques created centuries back and methods that are recently derived from those. Further, to get the best results for each of them, you will have to use different equipment, accessories, paints, and surfaces. Before purchasing any art supply, you should decide the art technique you really like and buy your items accordingly. It will save your time and money when you precisely know which supplies are used in your art form.
Plan Your Project: While planning your project, you will get an idea of everything you will need. Moreover, you will also get an approximate cost of all those items. You can then choose different variants to keep your purchase budget-friendly. Art supplies are available in the market at many price points. So whether you are a beginner, a student, or an experienced artist, you will find something that matches your need easily.
Define Your Budget: Like any shopping, purchasing art supplies should also be done considering the budget. If you can, you should always choose the best quality materials. However, you can try cheaper alternatives or student-grade art supplies if you are just a beginner trying different techniques. Make sure you research thoroughly before purchasing any item that is promoted as used by a great artist. Those are usually just marketing tactics to get more money out of the same material.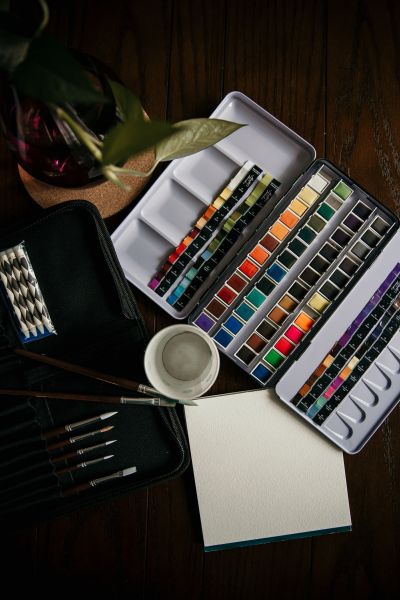 Consider Online Shopping: Once you have a list of items you need, you can finally buy them. If you want to go to outlets and purchase everything from stores, you can. However, we advise buying online because you can get more varieties and sellers with various offers. You can also buy in bulk with extra discounts. Online shopping is pocket-friendly for you since the sellers don't need to pay rent for their shops and sell you items at a lower price point than the store owners.
Choose Quality: You should understand that everything at a high price point doesn't necessarily have to be of the best quality. You can find many art supplies available at a reasonable price and are also of good quality. Good quality materials will be advantageous in the long run. They are worth it, even if they are a little pricey.
About ArtHustle-
If you want to learn new drawing and painting techniques, join the creative community of impressive artists at ArtHustle. Our artists are creatives and experts that offer lessons on illustrative watercolor portraits, landscapes, and much more. For more details, head on to our website.