In this article we will talk about correct and harmonious composition in the picture.
Just being able to draw is not enough for your picture to attract the attention of the viewer. It is also necessary to be able to place the elements of your drawing correctly, to determine their size, color, light and shadow. If the composition in a picture is correct, then all the elements of the picture are visually organically connected.
Let's familiarize ourselves with the rules of composition and learn how to make the right compositions in your drawings.
In the visual arts there are several ways to determine the successful location of key points. You've probably heard of the Golden Ratio or the Golden Section more than once. This is an ideal ratio of proportions that has been used in art for centuries. In a rounded percentage, the Golden Ratio is a division of a value in a ratio of 62% to 38%.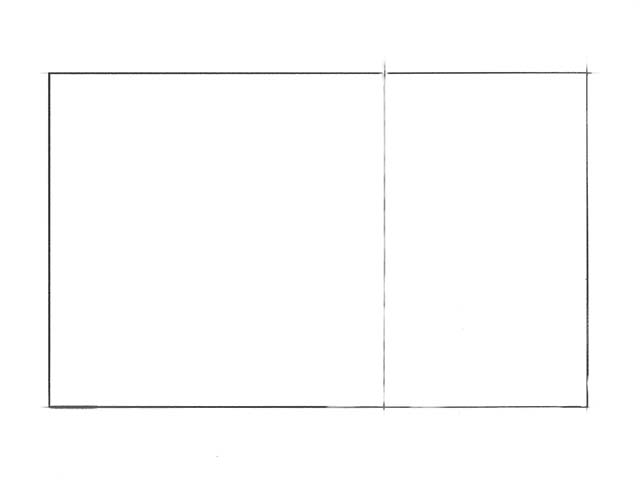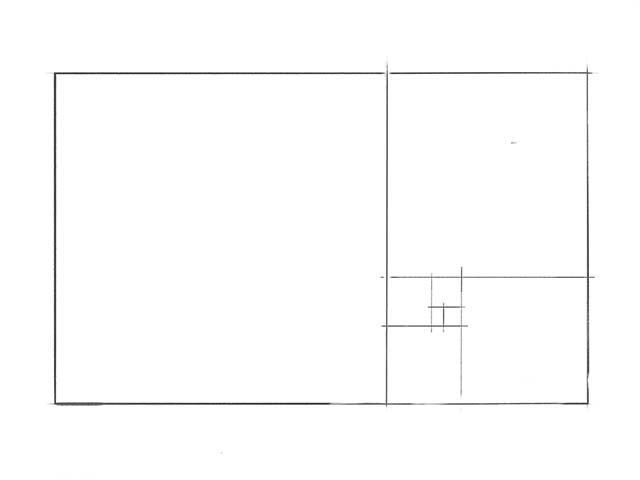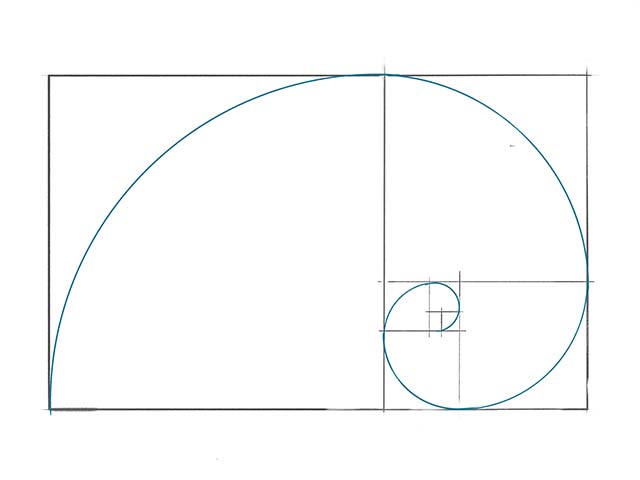 It is sufficient to visualize the spiral on paper and to place objects on it. Or, like in this drawing, draw a thin, barely perceptible pencil line on the sheet of paper. It can also be placed horizontally or vertically. The spiral-shaped golden section is very common in nature - for example in the snail shell.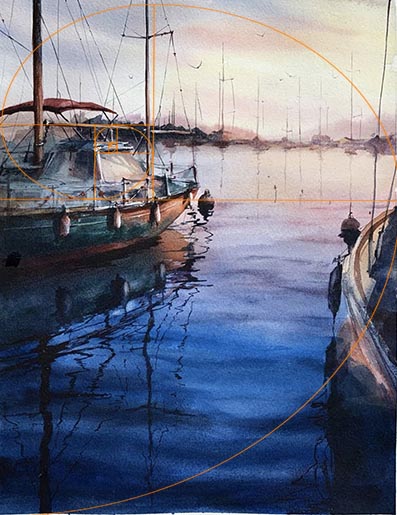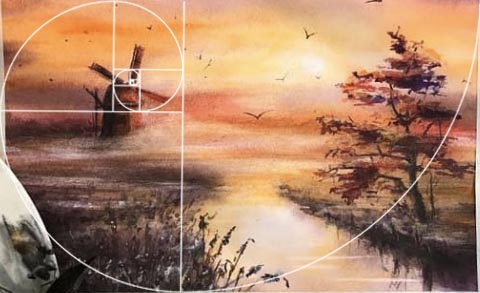 A simplified version of the golden ratio is a 9-cell grid on a sheet of paper with 2 parallel horizontal and 2 vertical lines.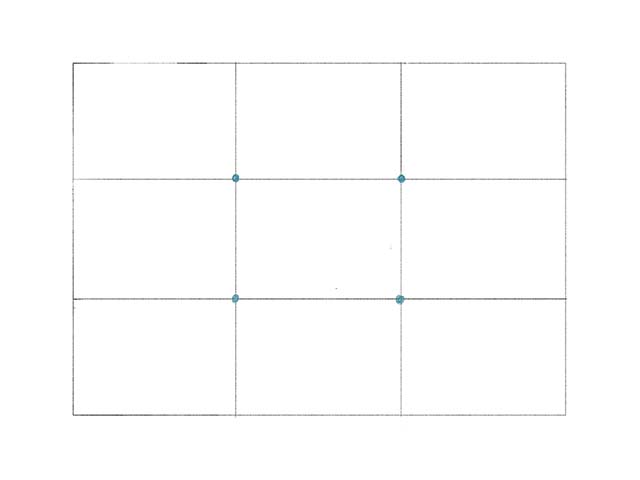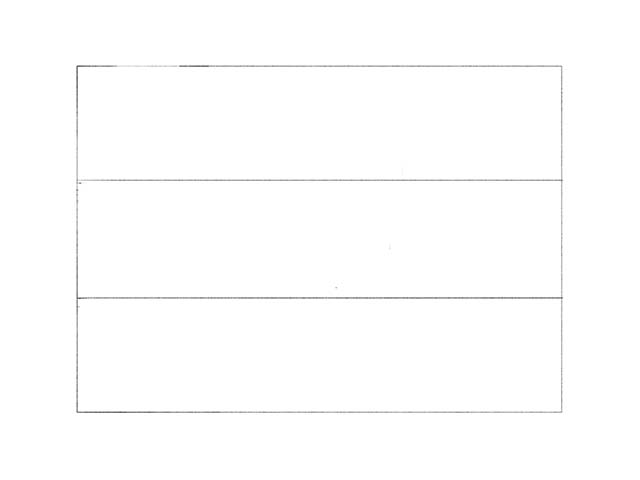 The focal point can be placed at the intersection of lines. In addition, one of the horizontal lines can serve as a horizon line.
Try to avoid a clear separation of the sheet into two halves. In some cases you can get a spectacular picture by placing the focus point in the middle of the composition. This is especially useful when symmetrical lines predominate in the picture. Positioning the focus point in the middle only intensifies this effect.
In other cases it is better to use a golden third rule and choose one of the intersections of the lines as in the following figure.
Try not to repeat the same shapes and sizes over and over again. Contrasts in size give your composition dynamism and liveliness.
You should also make sure that the corners of the elements are not touching each other in your painting - it irritates the eye of the viewer. Even if it is on the reference, shorten or lengthen the distance so that the elements look more harmonious with each other.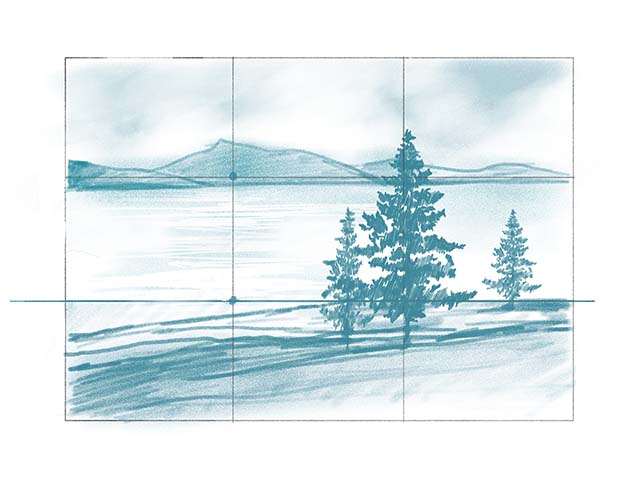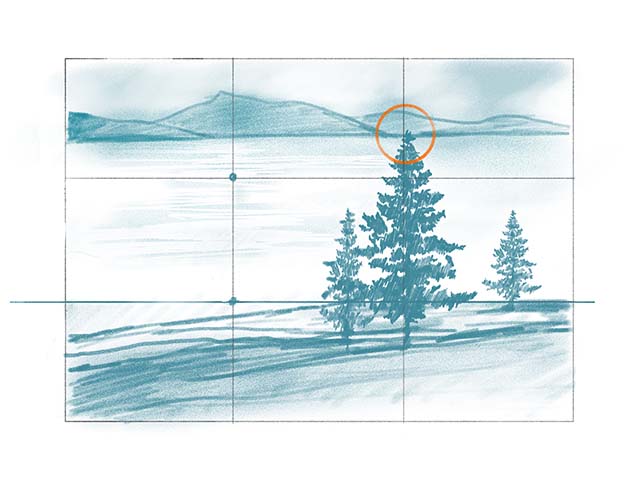 I have tried to summarize the basics of composition. Maybe you already knew all this, because all this knowledge is based on the fact that our eye perceives harmony and beauty. I always create a drawing intuitively and most of the time it goes along with the tips described above. If not, it's not bad - art cannot be limited by the rules.
Author: Rabi Alieva