Do you often not know which watercolor paper is the best? In watercolor painting, the choice of paper can significantly influence the final result. Especially at the beginning, one can feel overwhelmed by the huge choice of watercolor papers. With this guide, we want to give you a brief introduction to this subject and answer the most important questions in detail.
There are 3 main aspects regarding watercolor paper: composition, texture and density. Let's take a closer look.
Composition
There are 3 different types of watercolor paper:
100% cellulose
100% cotton
Mixed papers
100% Cellulose
The paper made of cellulose is ideal for sketches and studies. Since the cellulose cannot absorb water too well, the colour pigments remain on the surface. For this reason, the luminosity of the colours is preserved. The disadvantage of this paper is that the picture can only consist of a few layers, otherwise you run the risk of wiping away the previous colour layer or even damaging the surface of the paper. For larger formats, it is recommended to divide the image into sections so that you have enough time before the layer dries again. In terms of price, cellulose paper tends to be in the lower range.
100% Cotton
In contrast to cellulose paper, cotton paper absorbs moisture very well. This allows the colour pigments to soak deeply into the paper. As a result, the colours become faded which you have to take into consideration while adding more layers. Further, this type of paper is very well suited for multi-layered work, since the previous layers will be hardly affected. Due to the excellent water absorption, it is also excellently suited for wet-on-wet techniques. Moreover, the mistakes can be corrected again very easily if necessary. The price is quite high, though.
Mixed Paper
The most common mixed papers are made from cotton and cellulose. A somewhat more exotic version consists of cotton and bamboo. At this point, the proportions and thus also the paper properties vary greatly. The price range is also relatively broad.
Texture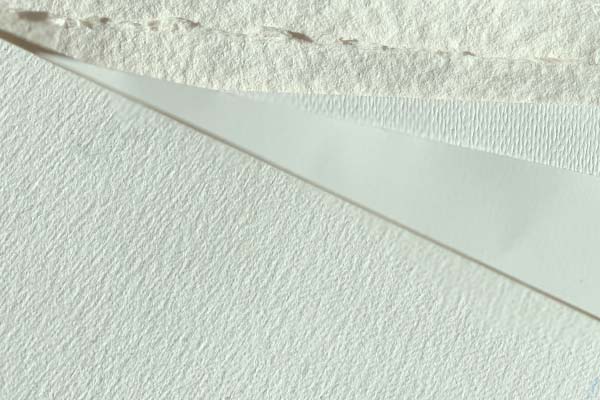 The texture of watercolor papers differs depending on how they were made. For example, a cold-pressed paper has a rough surface. Since it is suitable for any technique and subject, this is the most popular paper amongst artists. Hot-pressed paper, on the other hand, has a rather smooth surface and is ideal for detailed works, portraits, botanical painting, glazes as well as hand-lettering. Rough or hand-pressed paper is usually used in landscape painting because of its diverse effects.
Density
Watercolor paper has different densities, also known as paper weight or paper thickness. These vary between 185 g/m2 and 640 g/m2. Optimally the paper has a density of 300 g/m2 (or 140 lb). Paper that is too thin, below 250 g/m2, tends to curl a lot. This often leads to the formation of large accumulations of water and unwanted pigment spots.
A little tip: If the image has bulged, you can moisten the backside after the image has completely dried and put it under weight for a few hours.
Further remarks
In addition to the aspects mentioned above, you should also make sure that the paper is natural white, i.e. it should be acid free. This way your pictures will last longer.
In addition, watercolor papers almost always have a front and a back side. The front side is somewhat rougher and better suited for painting. With the expensive brands, however, this difference is minor, so that the reverse side can also often be used for studies, for example.
Brief Watercolor Paper Review
Watercolor paper from Arches
(100% cotton, 300g/m2, cold pressed).
Rough texture; beautiful colour gradients due to the strong absorption capacity; smooth colour blends; no water accumulation; quite expensive.
Watercolor paper from Canson
(cellulose and cotton mix, 300g/m2, cold pressed).
Rather smooth texture; water and colour pigments are not absorbed into the paper properly; water remains on the surface; uneven distribution of colour; quite cheap.
Hahnemühle watercolor paper
(90% bamboo - 10% cotton; 265g/m2)
Very suitable for mixed media; smooth surface; multi-layer techniques possible; made from renewable resources; good value for money.
Centenaire Gerstaecker watercolor paper
(100% cotton, 300g/m2, cold pressed).
Very good quality; very good value for money; ideal alternative to Arches.
Rabi's personal recommendation:
Watercolor paper in professional quality
100 % cotton
Cold pressed
300 g/m2
Despite our recommendations, we advise each of you to experiment with different watercolor papers to find the paper that suits your preferences and painting techniques best.
Have fun experimenting!
Author: Kate S.